We have all heard about people drinking rubbing alcohol but few realize how many people partake in this harsh chemical. Rubbing alcohol causes severe health issues that can lead to fatalities. Lets take a look at what rubbing alcohol is and all the reasons to avoid ingesting the substance.
What Is Rubbing Alcohol?
Standard Oil created isopropyl alcohol by hydrating propene in 1920. Isopropyl alcohol, sometimes known as rubbing alcohol, is commonly used in industrial and household cleaning solutions. Isopropyl alcohol is used for many medical purposes such as a water-drying aid for swimmers ear. A 60-70% solution of isopropyl alcohol in water is often found in rubbing alcohol, hand sanitizer, and disinfection pads. Rubbing alcohol is a form of denatured alcohol. It contains 70-95 percent ethanol and a few additional ingredients. As a result, it is extremely dangerous and should not be consumed.
It is an active ingredient in:
Disinfectants
Skin lotions
Cosmetics
Antifreeze
Automotive fuel
Body rubs
Nail polish removers
Mouthwashes
And many other products
Why Would someone drink rubbing alcohol?
Rubbing alcohol is consumed for many reasons. It is much stronger than ethanol which is found in most common alcoholic beverages. Rubbing alcohol is generally much cheaper and can be bought easily at any drug or grocery store. Because rubbing alcohol is significantly more powerful than ethanol and absorbs into the circulation much faster it is commonly abused. However, the same traits that help you to get drunker faster are also responsible for the high hazards and dangers linked with rubbing alcohol use.
The most common reports of isopropanol poisoning are accidental ingestion from children under the age of 6. Though that may be, in times of desperation, such as when they dont have access to beer, wine, or liquor, people with alcohol addiction have been known to turn to isopropyl alcohol. People who suffer from drug addiction are also more likely to drink isopropyl alcohol. Isopropanols properties may make it a go-to for alcoholics searching for a more strong high. Its crucial to note, that there are some serious hazards and dangers associated with abusing the chemical. In severe cases such as these, its important to seek professional medical advice.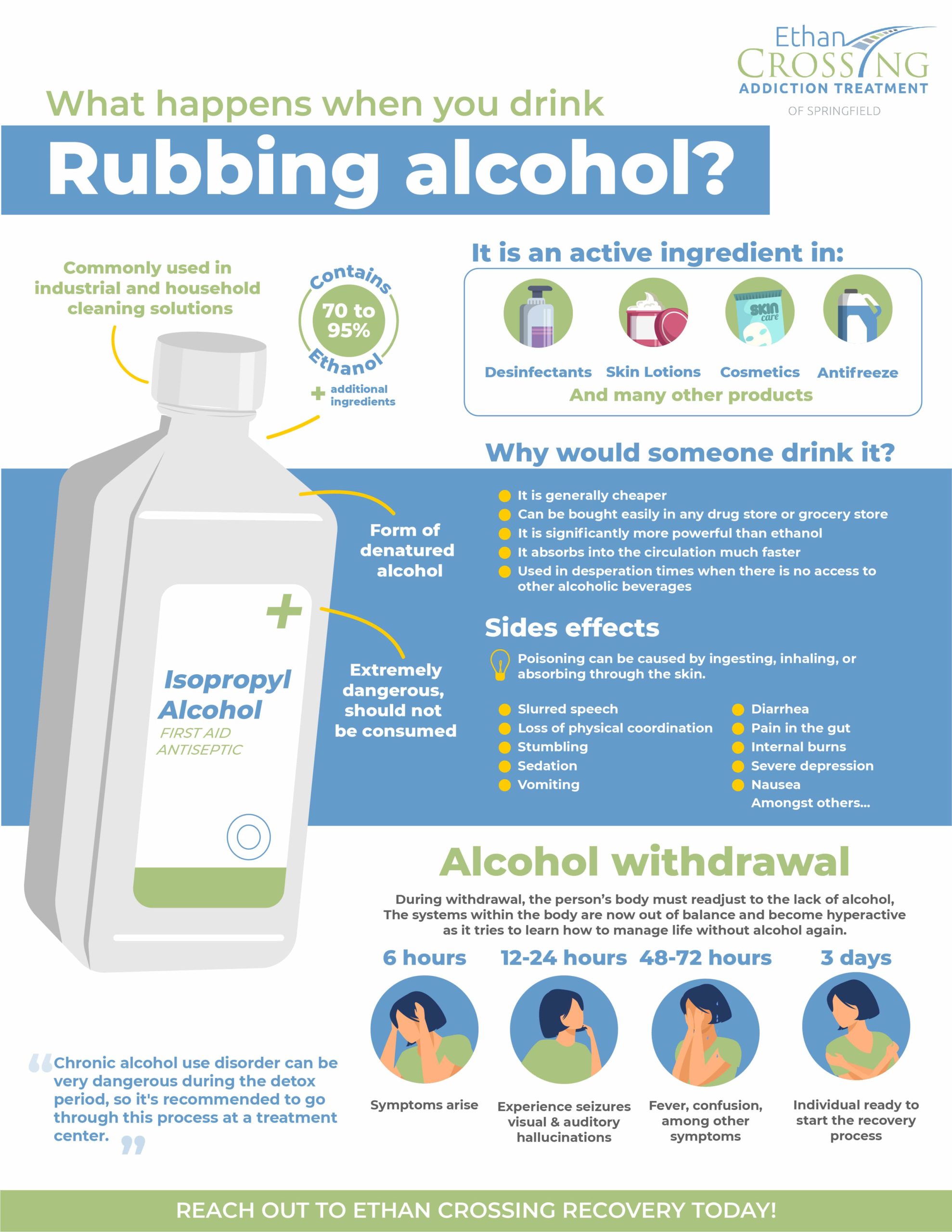 Ready to stop being dependent on substances? We are here for you! Contact us today so that we can explore all your needs and options.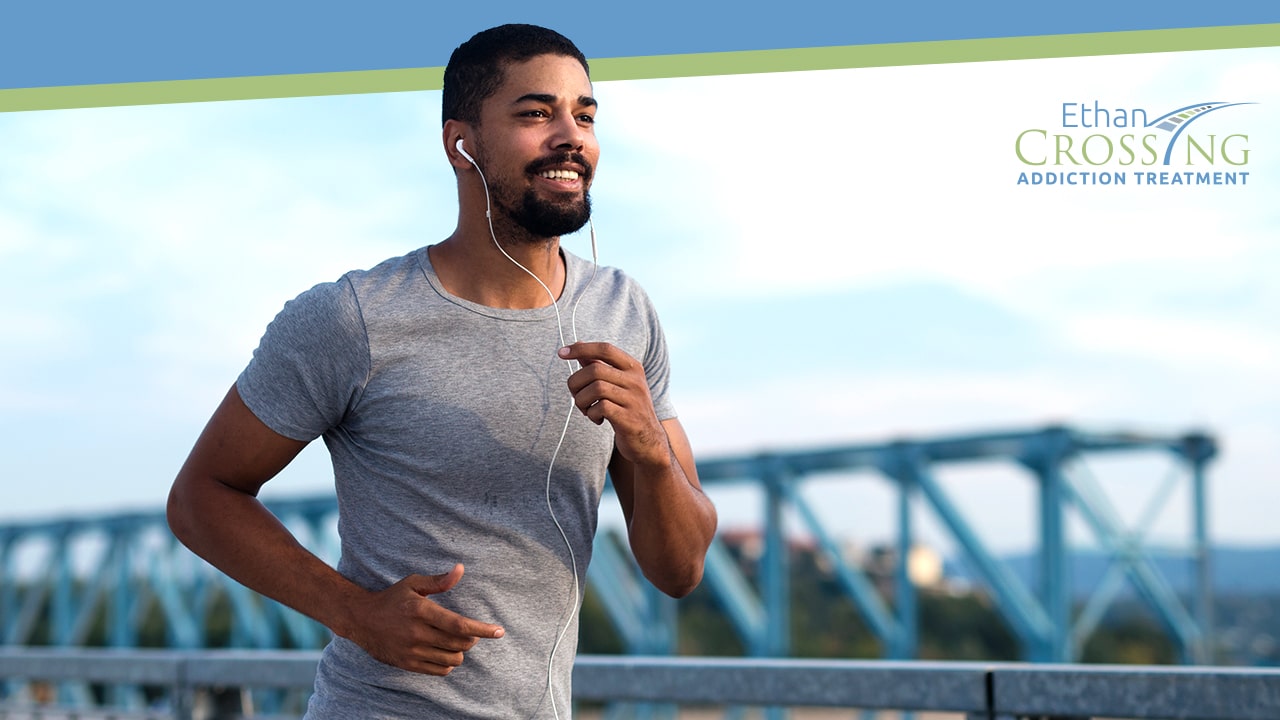 Side Effects From Drinking Rubbing Alcohol
Isopropyl alcohol is somewhat more harmful than ethanol, but far less poisonous than ethylene glycol or methanol, thanks to its metabolites. Even in quite high concentrations, death through human consumption or absorption is uncommon. Isopropanol and its metabolite, acetone, both depress the central nervous system. Poisoning can be caused by ingesting, inhaling, or absorbing through the skin. Some common side effects include:
Slurred speech
Loss of physical coordination
Stumbling
Sedation
Vomiting
Nausea
Diarrhea
Pain in the gut
Bleeding in the stomach and intestines
Experience low blood pressure
Severe Depression
Internal burns
Sporadic blood sugar levels
Rubbing Alcohol Poisoning
Rubbing alcohol is processed differently than ethanol due to its chemical structure, leading the body to become overwhelmed by toxins. Rubbing alcohol is essentially converted down into acetone, a hazardous molecule found in nail polish remover. Just over one pint of rubbing alcohol is equivalent to approximately 30 beers. So a small amount can easily cause alcohol poisoning.
If you or someone you know has accidentally ingested rubbing alcohol its critical to call poison control
Poison Control Center
Call (800) 222-1222
Available 24 hours every day
Treatment Options
If an individuals alcohol consumption or mental health disorder has led them to abuse rubbing alcohol its imperative to seek out a qualified healthcare provider. Chronic alcohol use disorder can be very dangerous during the detox period, so its recommended to go through this process at a treatment center.
When trying to stop drinking, some people try to give it all up at once. This strategy works for a few but not for many. A gradual decrease in consumption can be more effective and less dangerous as the alcohol slowly leaves your system rather than abruptly. This way feels safer for many because there is not a sudden shift in their physiology, and they see day to day how their health is improving. Quitting cold turkey may cause health complications as their body is not prepared to all of a sudden reintegrate itself to its original state. The withdrawal symptoms for alcohol can be painful and dangerous. In cases of a severe alcohol use disorder, it is best to find professional treatment. An alcohol detox center can help you get your life back on track.
THE DANGERS OF ALCOHOL WITHDRAWAL
Alcohol slows down and lowers the function of a persons central nervous system, which makes it a depressant. When someone uses and abuses alcohol on a regular basis, their body quickly becomes used to the presence of alcohol and adapts to it. Therefore, during withdrawal, the persons body must readjust to the lack of alcohol. The systems within the body are now out of balance and become hyperactive as it tries to learn how to manage life without alcohol again. This period of relearning is called withdrawal. The severity of withdrawal can vary, depending on a range of factors. However, most of the time, there is a basic timeline that alcohol withdrawal follows.

ALCOHOL WITHDRAWAL TIMELINE
Six hours after the last drink, withdrawal symptoms may arise. A person may experience anxiety, nausea, vomiting, and headaches. About 12-24 hours after the last drink, they experience seizures and visual and auditory hallucinations.
48-72 hours after the last drink:
High blood pressure
Elevated heart rate
Fever
Confusion
Hallucinations
Delusions
Excessive sweating
Delirium tremens (only occurring in 5% of alcohol withdrawals)
After about three days, the symptoms begin to taper off, and the individuals can start the recovery process.
TREATMENTS FOR ALCOHOL WITHDRAWAL
One of the essential parts of the process is having the support to get you through it. That means finding a quiet place with soft lighting and limiting your contact with other people. Drinking lots of water with the addition of electrolytes and eating healthy food will help you make it through the withdrawal stages. It may sound simple, but only if you follow the routine and abstain from drinking. Just one drink can damage the whole process and seriously affect your health. The alcohol is poisoning your body, and it takes time to recover. The only real cure for AUD is a healthy lifestyle and staying on top of your mental health.
However, alcohol addiction treatment programs can support recovery. For instance, at Ethan Crossing Recovery, we offer treatment options such as:
Cognitive-behavioral therapy
Dialectical behavior therapy
Group therapy
Individual therapy
Family therapy
To learn which treatment options can support your recovery, contact Ethan Crossing Recovery today.
REACH OUT TO ETHAN CROSSING RECOVERY TODAY
At Ethan Crossing Recovery, we have an alcohol detox program as well as residential and outpatient drug rehab programs. We believe in family engagement throughout the recovery process. You should not try to quit alcohol on your own, and you should not have to go through recovery alone either. To learn more about our alcohol addiction treatment program, please contact Ethan Crossing Recovery today.